AND Planet search results for "Autograph"
Men In Bellydance
How Should men be participating in Bellydancing?
Androgynous dancers have a long history in belly dancing.
Preconceived notions exist. Think "bodybuilder," and a big, strong, man with chiseled muscles comes to mind. Think "belly dancer," and a lovely...
#Male Dancers #Sexy #Androgen Pus #History #Pelvis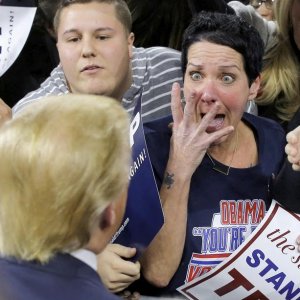 One Eager Supporter
Extremely excited would be an understatement.
JANUARY 15, 2016 AND MAGAZINE IN COLUMNS
When I set out to cover this rally, little did I know that I'd capture a moment like this one.
To some, it was as if she had met a celebrity rock star. To others, this woman looked pretty terrified. In fact Robin Roy is one very eager...
#Donald Trump #Fan #Campaign #Presidential #Crazy
Derek Jeter & fan idiocy
Remember Christian Lopez? You probably don't. here's why.
AUGUST 12, 2011 AND MAGAZINE IN SPORTING REACTIONS
Where is that 3000th hit ball now? Probably dusty and under Jeter's bed somewhere.
July 9th Christian Lopez could have had his life changed. He caught a ball from Yankee superstar and mega-millionaire, Derek Jeter. Lopez, 23 worked...
#Yankees #Derek Jeter
More on Autograph
Refine by publication, image, and more: