Vladimir Sukhoi
Contributor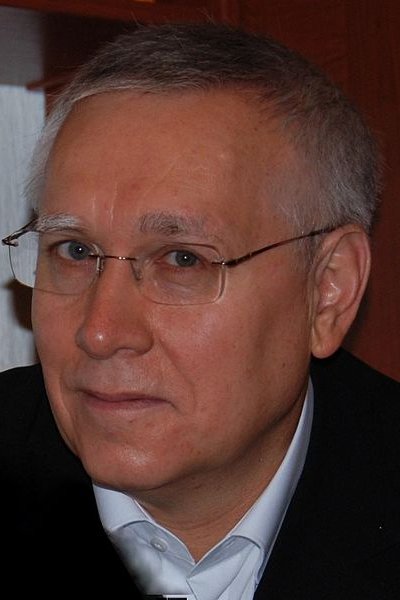 Born December 26, 1952, Dnepropetrovsk region, Ukraine, USSR. Graduated from Moscow Institute for International Relations (MGIMO). Faculty of International Journalism. Diploma with Excellence. 1973-1979.

Correspondent, special correspondent, deputy managing editor for PRAVDA newspaper. 1979-1986. PRAVDA'S staff writer in the U.S, New York City. 1986-1991. Deputy director, director of Studio for International Programming and Videoexchange (Studio M), Russian State Television and Radio Company OSTANKINO, Moscow. 1992-1994. Managing editor and anchorman of Sunday weekly programme VOSKRESENYE (SUNDAY) of ORT/Russian Public Television. 1994-1996. Observer and Political Commentator for Nightly news programme VREMYA (TIME) of ORT/Russian Public Television, Channel 1, Moscow. 1996-1998. ORT/Russian Public Television Bureau Chief, Washington, D.C. 1998-2002. Channel 1, Moscow Bureau Chief, Washington, D.C. 2002-2004. RUSSIA TODAY (RT), Moscow. Deputy News Editor, News Editor, Personnel Managing Director. 2005–2014. AMERICA MAGAZINE, Moscow. Political Observer. 2004 – 2012. MGIMO. Professor. 2011-

Covered all Soviet-American and Russian-American summits since 1986. Made interviews with Mikhail Gorbachev, Boris Yeltsin, Vladimir Putin, Richard Nixon, Bill Clinton, co-interviews with Mikhail Gorbachev and George Bush, Boris Yeltsin and Bill Clinton. Also interviewed Albert Gore and Victor Chernomyrdin, Secretaries of State Warren Christopher, Madeleine Albright and Colin Powell, defense secretaries William Perry, William Cohen and Donald Rumsfeld, former Prime Minister of Canada Brian Mulroney, and such U.S. government officials, political scientists and scholars as Henry Kissinger, Zbigniew Brzezinski, Alexander Haig, John Kenneth Galbraith, James Billington, Bill Bradley, Pat Buchanan, Louis Freeh, Robert McFarlane. Did a series of interviews with visiting Russian dignitaries Sergey Stepashin, Sergey Kiriyenko, Igor Ivanov, Sergey Lavrov, Sergey Ivanov, Aleksey Kudrin, Victor Gerashchenko, German Gref, Victor Khristenko,etc. Skilled in communication with people – just people – and also with politicians and political pundits. Never wanted to carve out own political career but always believed that a reporter has to get out and "walk the ground". Always know what to love and what to hate. Ready for new thinking and breaking new lands.

Nearly 3,500 publications in Russian and American press. More than 15 TV projects and specials. Book: LIVERMORE: GOWN AND UNIFORM, Moscow. 1988. Latest: Actual problems of modern journalism. Summary of lectures. Moscow Institute of Television and Radio. 2012. Commentary: enigma of the genre. Essay for MGIMO handbook. 2014.

Married with three sons, Eugene, 37, Alexander, 33 and Vsevolod, 3.
As of September 15, 2017, Vladimir's 6 articles like "Династия" have totaled 50.8K views and shares.
Vladimir's 6 most recent articles:
MAR 21 2017
America Pictured
Economics
Имя Рокфеллера стало синонимом денег
"Современники иначе как машиной для зарабатывания купюр его и не называли"

NOV 18 2016
America Pictured
Politics
История одной политической катастрофы
"Победил аутсайдер,который, казалось бы, ни при каких обстоятельствах не может быть президентом США"
AUG 03 2016
America Pictured
Society
Йосемит: другая жизнь и берег дальний
"Надпись гласила:«Оставь здесь только следы твоих ног. Возьми с собой только воспоминания». Я взял..."

JUL 10 2016
America Pictured
Culture
О голосах и образах «легкого» театрального жанра Америки
"Мюзикл для Америки - это огромная часть ее культуры. Это - то, без чего Америка уже жить не может."

MAR 16 2016
America Pictured
Society
Темнокожие солдаты составляют примерно пятую часть ВС США
"Чернокожие военные не могут считать себя обделенными судьбой.«Никто и ничто не забыто». Хотя.."
DEC 29 2015
America Pictured
Culture
Музей Хиллвуд содержит редкую коллекцию русского искусства
"Сокровищница музея Хиллвуд продолжает жить по своим собственным законам и доставлять радость людям."
Visit Vladimir's sponsor: