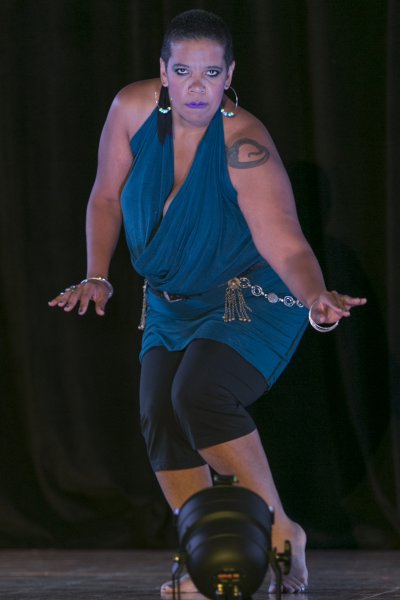 Malik has been teaching SOMETHING since age 14 (over 30 years). In everything she does, her goal is to affirm that all women & girls are strong, beautiful, and worthy of attention.
She is proud to be the first certified Datura Style teacher in the Midwest, having been a member of the first graduating class of Rachel Brice's 250 hour 8 Elements program.
Her dedication to Bellydance led her to create the 100Days Improv Challenge(tm) in 2014.
When she's not bellydancing you'll find her teaching Pilates, Kettlebell AMPD, Moxie Boxing (a format she co-developed), or one of the other body positive fitness & wellness classes offered at the studio.
Opening a small business has taught Malik a lot! In order to share her knowledge and offer support to other women business owners Malik founded the Women's Business Empowerment Workgroup (WBEW).
As of January 14, 2018, Malik's 7 articles like "Practice Anyway" have totaled 165.4K views and shares.
Malik's 7 most recent articles:

SEP 30 2016
Bellydance.One
News
Finding motivation when you want to skip a day
"Do you feel like doing your practice today? Do it anyway."
SEP 12 2016
Bellydance.One
Features
Building soft skills through practice
"Beautiful and mesmerizing performances are a display of hard and soft skills."

SEP 05 2016
Bellydance.One
News
Building hard skills through practice
"Once you have the hard skill learned, it's important to practice it regularly."

AUG 29 2016
Bellydance.One
Performance
Setting practice goals
"Setting dance goals can make all the difference in keeping you on track."

AUG 20 2016
Bellydance.One
Performance
Is your body ready for practice?
"We need to take care of our physical and mental selves in order to produce our art."

AUG 14 2016
Bellydance.One
Features
Using a Practice Journal for Growth
"And patience is hard to cultivate, especially without a tangible product."
AUG 08 2016
Bellydance.One
Features
What will you do, Today?
"Getting better at something, even something you love, is work - takes practice"